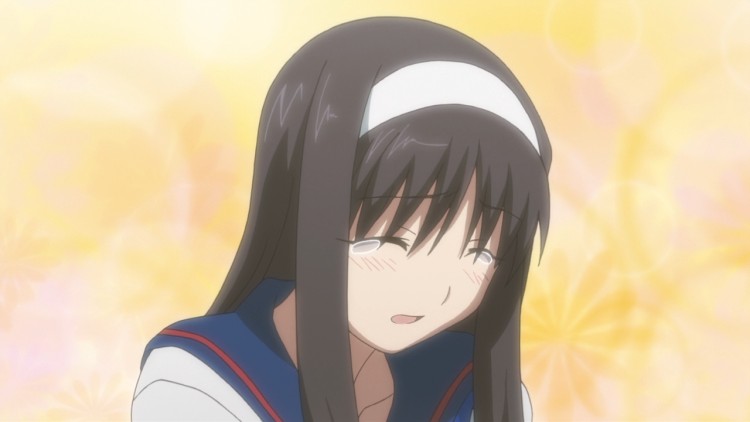 HNNNNGGGGGHHHHHHHHHH
DOWNLOAD 1080p: [UTW]_Carnival_Phantasm_-_10_[BD][h264-1080p_FLAC][75CC896E].mkv [DDL1] [DDL2]
DOWNLOAD 720p: [UTW]_Carnival_Phantasm_-_10_[BD][h264-720p_AC3][0EEFE844].mkv [DDL1] [DDL2]
DOWNLOAD SD: [UTW]_Carnival_Phantasm_-_10_[BD][XviD][2EBEFB05].avi [DDL1] [DDL2]
Fans of Kohaku and her trolling will love this episode. We also have delicious Akiha and a pretty random Hisui section.
EDIT: It occurred to me that most of you probably don't know the details behind Hisui's "Brainwash Detective" persona, so here's how it came about:
[spoiler]Nasu apparently made a lot of typos with Hisui's lines in a minigame that was in the pre-release version of the Tsukihime visual novel. Among them is a typo where Hisui, as a detective, declares "犯人を、貴方です" ("I'll make you the culprit"; the "wo" is supposed to be "wa" instead, which would make the line mean "You're the culprit"). The joke is that the typo makes it look like Hisui is declaring to turn the person into the culprit, instead of declaring the person to be the culprit.
While these typos didn't make it to the final version of Tsukihime, Type Moon later posted a pretty awesome optical illusion pic featuring the personality Brainwash Detective Hisui, whose catchphrase is "貴方を犯人です" (a slightly reworded version of the relevant line that means the same thing). 2ch loved it, of course, and the phrase has become a famous meme ever since.
This typo-meme also came up in ep2 of Carnival Phantasm. See if you can find it! ^_^[/spoiler]