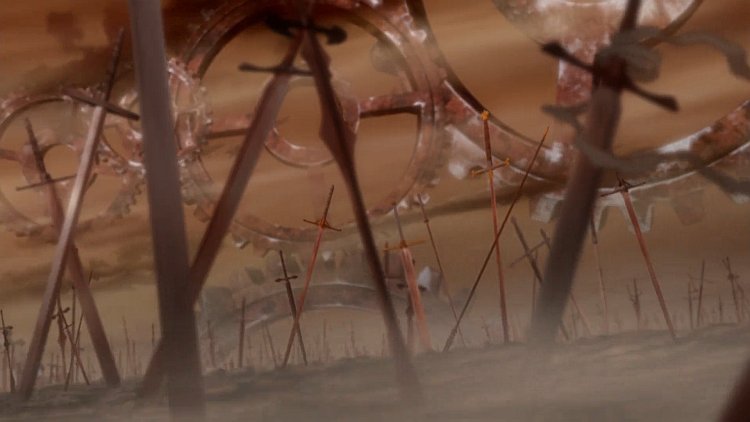 DOWNLOAD H.264 1080p: [UTW] Fate Stay Night – Unlimited Blade Works [BD][h264-1080p_FLAC][D7A47961].mkv
DOWNLOAD H.264 720p: [UTW] Fate Stay Night – Unlimited Blade Works [BD][h264-720p_AC3][70764BA9].mkv [DDL] [MU (Part 6)]
DOWNLOAD 720p PATCH: [UTW] Fate Stay Night – Unlimited Blade Works [720p Patch].zip
DOWNLOAD XviD 480p v2: [UTW] Fate Stay Night – Unlimited Blade Works [XviD-480p v2][F4613B8F].avi [DDL]
DOWNLOAD Script: [UTW] Fate Stay Night – Unlimited Blade Works.ass
Update (10/7/2010): 1080p and the 720p v2 patch released.  Changes from the v1 version include less heavy typesetting at the 1:17:40 UBW chant (still the same on-screen typesetting; only the blur on the sliding polygon was removed) and ending lines at 1:44:46, and extra script editing, courtesy of Path (thank you!).  The 1080p version already uses this revised script.
I'm actually not sure if I want to redo and redistro an XviD 480p v2 version.  Please let me or my staff know if you strongly feel a 480p v2 is necessary; remember, this will affect our resources.  To give an example, a side effect would be the distro for our other releases (like Amagami SS tonight) being negatively affected.
Update (10/8/2010): 480p v2 Released. Torrent is delayed atm – Bob64
——————-
On behalf of Unlimited Translation Works, I very proudly present our latest release: Fate/Stay Night: Unlimited Blade Works!
If you have not seen the FSN anime or played the FSN Visual Novel, I highly recommend that you at least watch the anime before watching this movie.  The movie assumes its viewer to be at least familiar with the anime, and the first half an hour or so will likely confuse you otherwise.
UTW was pretty much formed to sub this movie, so this release marks a group milestone.  Translation for this took ~9 hours split over two days, from a pretty terrible PSP raw I used due to its small filesize and the fact that it was one of the first raws to become available.  The staff were absolutely amazing as usual and really made working on this an enjoyable experience.  Thanks go to Kusion for his Unlimited Timing Works, Nikon for his Unlimited Timing Check (not really, he actually ruined the timing) ( ?(???)?) and Editing Works, ar for his Unlimited Encoding Works, Bob64 for his Unlimited Sign Works, and Ershin and aznskman for their support and assistance.
There may be small inconsistencies with regards to FSN jargon to what you may be used to from watching subtitles of the anime, or playing mirror moon's FSN English localization.  My entire FSN experience has been rooted in the original Japanese, and my rendering of certain terms may be different from accepted lingo; I have tried to use these "official" terms whenever possible, however.
The following is more of Kusion's shit. It's all true, however.
We'd also like to state that we, at UTW, completed this release using a 1080p workraw. Don't believe me?
[UTW-WRAW] Fate Stay Night – Unlimited Blade Works [BD][h264-1080p][AC3][49521F74].mkv
Yeah. We're awesome.
Oh, yeah. If you haven't yet, join #nanasaki@irc.rizon.net for some awesome UBW discussion and free ops. Shameless self-advertising, etc.
If you experience any playability issues, use MPC-HC with CCCP. This is the only setup that we guarantee will play without problems, notwithstanding hardware/CPU issues.  If you aren't on Windows, try MPlayer.