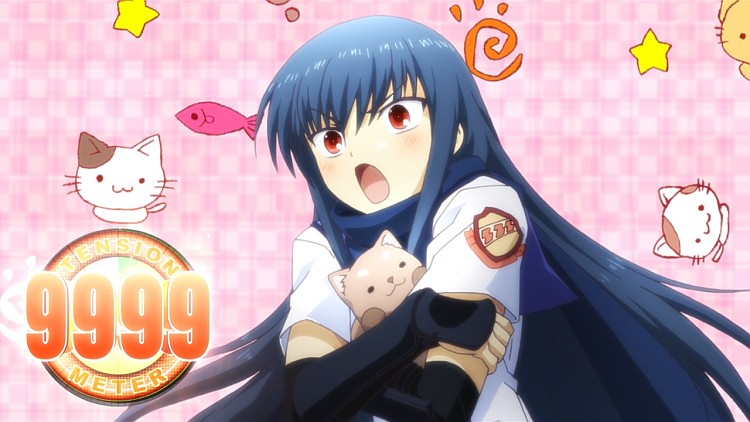 DOWNLOAD H.264 1080p: [UTW]_Angel_Beats!_13-Special_[BD][h264-1080p_FLAC] [FS]
DOWNLOAD H.264 720p: [UTW]_Angel_Beats!_13-Special_[BD][h264-720p_AC3] [FS]
And with this… Angel Beats! Blu-ray is complete! I've included The Making of Episode 2 in this, but we haven't translated it because it's a typesetting nightmare and there isn't much said. The majority of the Blu-Ray project was done by myself (ar) since Ershin fixed up the scripts for the batch, but with this last volume Ershin, Raze, and Nikon also stepped in to help out. So here are the project credits!
ar (Encoder/BD script fabulous'er): I enjoyed working on this show and will miss all the awesome music! I will always love GirlDeMo even if they are a make-believe band! LiSA x marina~
Ershin (Translator): Ever since the last broadcast episode, the BD releases have by and large been left up to ar, since my role in translating was finished. So I can't even begin to describe what a treat it was to have an opportunity to jump back into the world of Angel Beats! even for just one episode (and a tiny-ass epilogue >_>). I really hope you guys enjoy the special episode!
Nikon (Timer): I seriously almost pooped my pants from laughing so hard
Raze (QC/Editor): I guess this marks the completion of UTW's first BD project! The special was definitely a fun watch.
Bonus Features List:
* Episode 13: Creditless Ending
* Stairway to Heaven: Creditless Ending
* Episode 13: Another Epilogue
* Toro Station Weekly (Magazine) ?(Incorrectly labelled The Making of Episode 2)
720p Release
* Video – ~CRF 15, 2-pass mixed
* Audio – AC3 2.0 320Kbps
1080p Release
* Video – ~CRF 16.5, 2-pass mixed
* Audio Track 1 – Main: FLAC 2.0 24bit
* Audio Track 2 – Commentary: AC3 2.0 192Kbps
We'll be making a batch, and I suppose I'll include a commentary pack in the 720p release with .mka files named the same as the video files so they can be played from the same directory.
Edit: Seems I got the extras mixed up (damn you CDJapan and me not checking the BD Menu!). The Extra included is actually Toro Station Weekly (Magazine), I'll probably do the Making of Episode 2 when I get hold of the DVD it came on~ So oops! My Bad
Edit2: Batch will be made once we've finished subbing The Making of Angel Beats! Part1+2, so maybe a week or two. They'll be included in the batch, but they are obviously DVD encodes because the DVD is what came with the Blu-ray and there is no Blu-ray for them.