I finished the new August game Aiyoku no Eustia early today, and my mind is still blown from it. As promised, here is a review of the visual novel I have been hopelessly addicted to these past few weeks. And yes, this review is spoiler-free.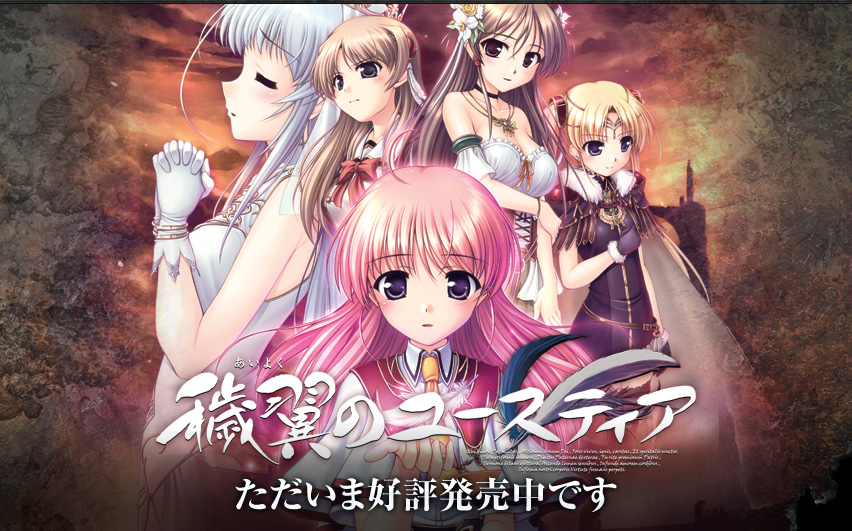 Random Info
Name – Aiyoku no Eustia (穢翼のユースティア), "Eustia of Tainted Wings"
Release Date – April 28th, 2011
Company – August
Scenario – Sakakibarataku (榊原拓) (Yoake, Fortune Arterial)
Art – Bekkankou (べっかんこう) (Yoake, Fortune Arterial)
Genre – Medieval Fantasy, Mystery, Romance
Length – About 20-25 hours (Medium)
Opening Movie
Plot Summary
(Description taken from the relevant vndb.org entry and edited)
After the surface of the world succumbed to chaos centuries ago, the city of Novus Aether is kept afloat in the sky solely by the continual prayers offered by the Saint. Years ago, when the Saint's prayer was interrupted, an incident known as the "Gran Forte" occurred, causing a portion of the land to fall and split the lower city into two, separated by a cliff. Countless lives and property were lost or irreversibly affected in what would be known as the greatest disaster in the city's history.
In time, the lowest layer, known as the "Prison", became the home to people who lost much of their former lives during the "Gran Forte". Crime, famine, and disease run rampant, with "The Noncorroding Gold Chains", the ruling organization in the area specializing in the sex trade, keeping what little order that still exists. Meanwhile, a contagious disease which causes the infected to grow wings has spread throughout the city, and a unit commonly known as the "Wing Hunters" has been formed to deal with these people swiftly and often violently.
In this "Prison" resides Caim Astraea, a freelance ex-assassin who does odd jobs for his friend, the head of "The Noncorroding Gold Chains", for money. During one request, Caim finds Eustia, a winged girl who emits the pale purple light characteristic of the "Gran Forte" incident years ago. His encounter with Eustia will take him on a journey which will involve him with the most influential bodies of the city, including the Church and the royal government. As he searches for the meaning to his cruel, difficult life, he will discover the deepest and darkest secrets of Novus Aether…
Characters
A huge part of any VN experience is the characters, so I'll spend some time introducing the protagonist, the heroines, and some of the more important side characters.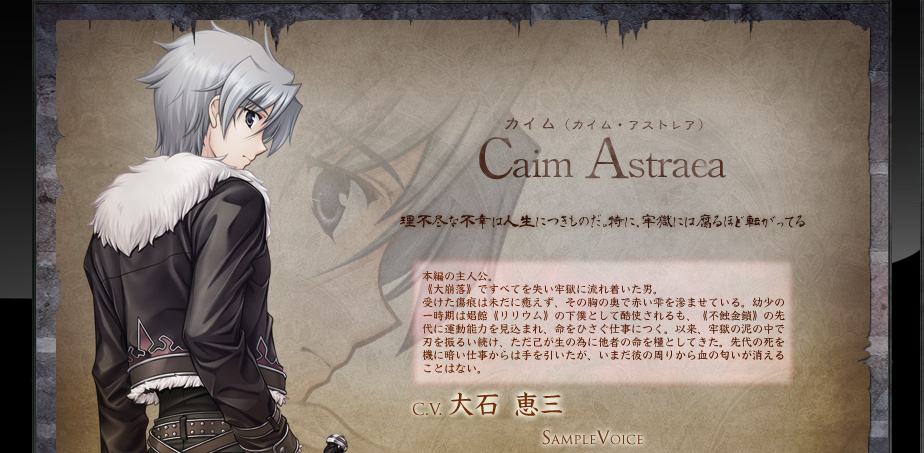 The protagonist of the story and a freelance ex-assassin who has adapted to the harsh life in the "Prison". Originally a resident of the lower city, his life as he knew it completely changed when he lost his home and family as a child during the "Gran Forte". Like many "Prison" residents, the incident proved traumatic for him, and he has forsaken much of what he had believed in during his harsh and relentless time as an assassin.
He buys Eustia from "The Noncorroding Gold Chains" after seeing her emit the characteristic purple light of the "Gran Forte" incident, believing she may hold the answers to the event that almost completely destroyed his life. He appears cold and unrelenting, but, as many of the heroines and characters note, he is a kind person at heart.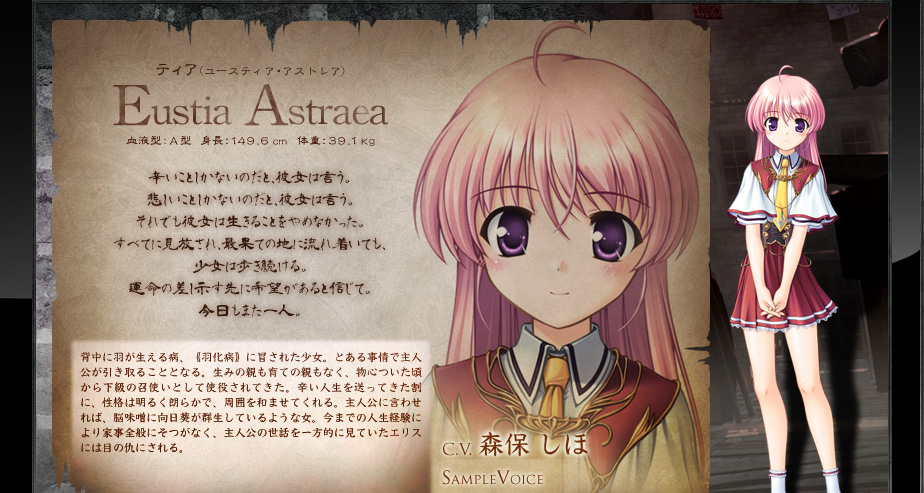 The title character, Eustia (everyone calls her Tia for short) was saved from having to work as a prostitute after Caim buys her. An orphan for as long as she could remember, Tia grew up under harsh conditions, having worked as a slave for a noble family before ending up in the "Prison". She is found to have the wing disease, although her wings are markedly different from the others; it is quickly revealed that Tia is a special winged case and may possess supernatural powers.
She is cheerful and optimistic, and she believes that there is a greater purpose to her life from the periodic dreams she sees. She is driven by a huge desire to help and bring happiness to others, especially Caim, whom she looks up to as the one who changed her bitter life up to that point for the better. Oh, and before I forget, she's also freaking adorable, oh gawd.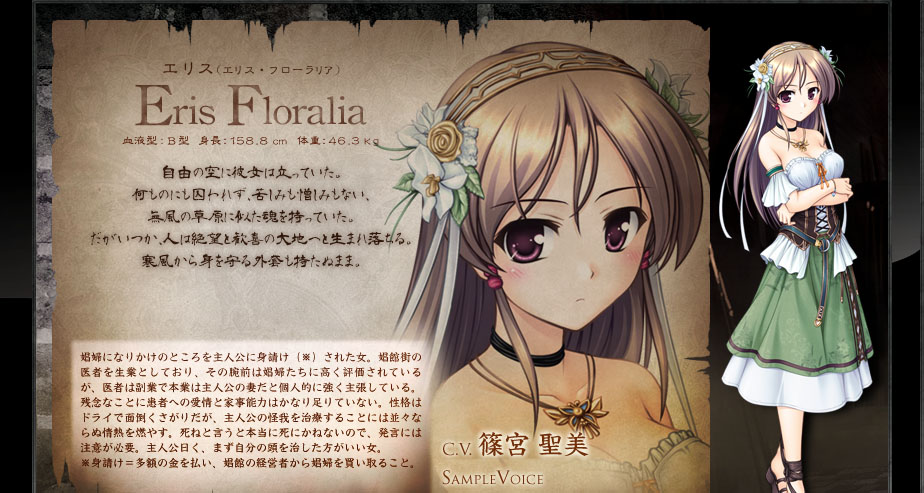 My favorite heroine next to Eustia, Eris was also saved from having to be a prostitute after Caim bought her. She is now recognized as one of the best doctors in the area, regularly treating the men and prostitutes that work for "The Noncorroding Gold Chains", although she believes her true profession to be Caim's significant other. Tall, well-proportioned and beautiful (and a doctor to boot), Eris is extremely popular among the men in the area, although she has eyes only for Caim and is very curt and blunt to everyone else.
Caim wants nothing more than for Eris to treasure her freedom and live independently; Eris, however, wants nothing more than to belong to Caim and obey his every command. This creates a certain amount of tension between the two characters, and, later in the story, it is revealed there is more to this relationship than meets the eye…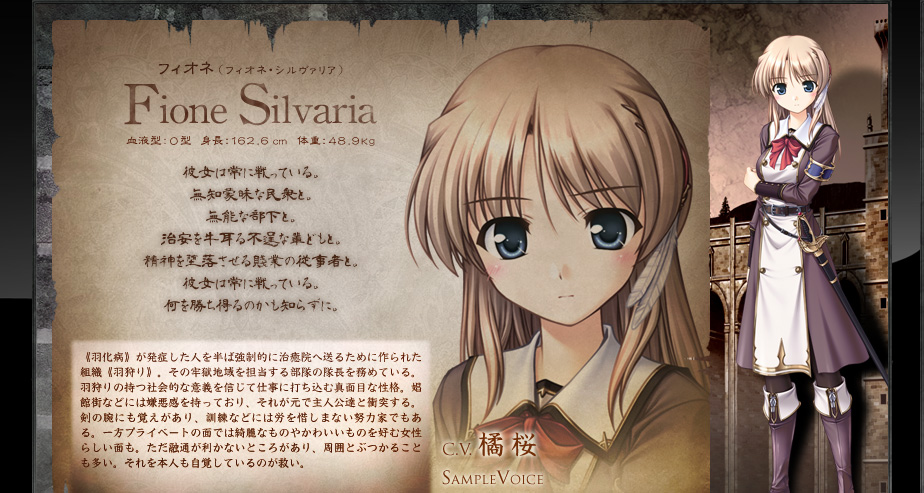 The captain of the "Wing Hunters", Fione has a very strong sense of responsibility and justice. As such, she clings on very strongly to her beliefs, which makes her come off as stubborn and inflexible. She is a very hard worker and devotes herself fully to her duties, and as such is disliked by the majority of "Prison" residents, sentiments she also shares back at them.
Fione's personality gradually changes when she and Caim join forces to rid the "Prison" of a serial killer known as "Black Wings". They get to know one another as the investigation proceeds, and her patronizing attitude towards the "Prison" residents disappears as she comes to understand their way of life.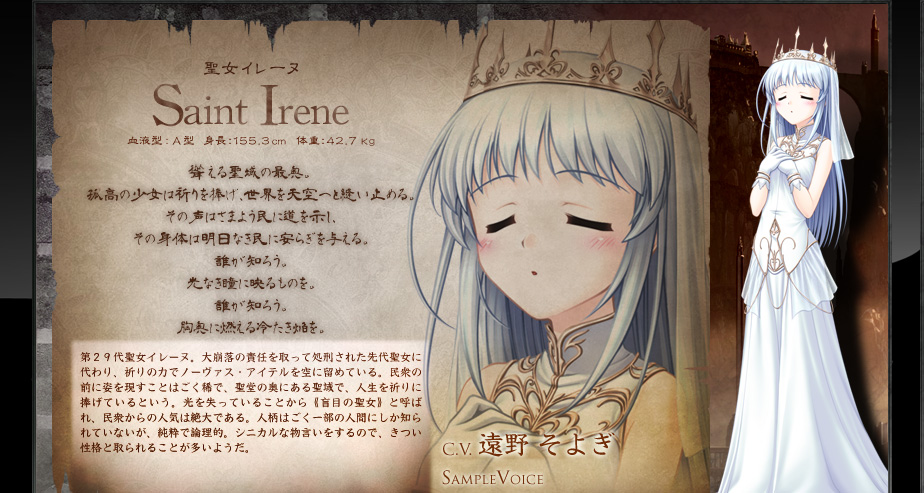 The current Saint, Irene the 29th is gifted with a way with words and incredible strength of faith. Originally a homeless girl, she met Lavria, who would become a sister figure to her, on the streets. The Church would eventually take them both under its wing; she was selected to be the new Saint, to offer constant prayer on behalf of everyone in Novus Aether, after Irene the 28th was executed for interrupting her prayer and causing the "Gran Forte".
St. Irene the 29th professes to have heard the voice of the Angel in her dreams during a bout of sickness which also left her blind, which begged her to search for the Angel's Child. She is hurt that the people around her don't respect her nor believe in her, and as such she can get very confrontational and stubborn once her beliefs are challenged.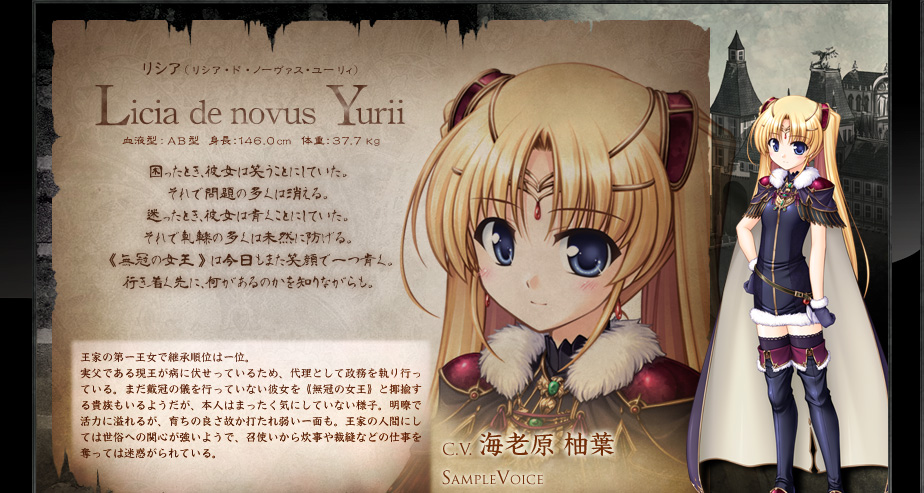 The current princess of Novus Aether and successor to the throne, Licia is a young, mischievous girl with little interest in the politics of her country, leaving the decision-making to the House of Nobles and its head, Gilbert. She is, however, very interested in what the "Prison" and the lower city are like (though she is terribly misinformed in this matter) and loves to do servant work such as hanging laundry and cooking.
I can't really say anything else about her without spoiling huge chunks of plot, but I'll just say she's pretty darn cute when she's in deredere mode.
Other Characters
Siegfried Grado – The current leader of "The Noncorroding Gold Chains", son of the creator and previous leader, and Caim's close friend. The two of them share a long past, having worked as assassins and escaped from countless dangers together. He's pretty much a huge bro, but he takes his responsibilities as the top figure in the "Prison" very seriously.
Melt – An wildly successful prostitute in her day, the previous leader of "The Noncorroding Gold Chains" eventually bought her for himself. She now runs a bar and restaurant that Caim and Siegfried both regularly visit on Prostitute Street in the "Prison". Oh, and isn't she the spitting image of Saber from F/SN (minus the big chest)?
Lucius dis Mireille – A young noble and overseer of the "Wing Hunters" who has quickly gained recognition and power among the governing nobles. He is concerned with the corruption of the government and diligently working to improve the life of all citizens of Novus Aether.
Lavria – St. Irene the 29th's personal servant, Lavria is a timid girl who is torn between supporting St. Irene's beliefs and obeying the orders of the Church ministers to keep St. Irene in check. Her inability to assert herself causes her to be shunned both by St. Irene and the rest of the church.
Plot/Story
Central to any visual novel is the story it has to tell (I mean, what would a novel be without a story?), and Aiyoku no Eustia is outstanding in this respect. The story pulls you in right from the get-go, and there is never a boring moment throughout: every section is plot-relevant, and the plot itself is ripe with twists, revelations and events that could keep you up all night if you aren't careful. This in itself is noteworthy, as I can remember only about two other VN titles in my experience that I just couldn't tear away from once I started them.
In terms of how the routes are structured, there's basically one main route — Eustia's — and the routes of the other main heroines branch off at various points in the story. The side routes are comparatively very short and include two H-scenes each. Perhaps my only real problem with this VN is how the side routes seemed to be just excuses to give you the H-scenes you'd been waiting for. Though, strictly speaking, this isn't really a bad thing if you're more concerned about the main plot than the heroine routes (which will pretty much be the case): you get your H-scenes and happy ending quick then it's back to the main story.
Several themes are explored in Aiyoku no Eustia, all of them very human: one's reason for living, what it is to be independent, trauma and its effects, the effects of disaster on people, the role of religion, the roles and responsibilities of government, self-sacrifice, morals and ethics… I could definitely come up with a bunch more if I keep going. Of particular note is how the infamous utilitarian argument comes into play towards the end of the story: it was masterfully integrated into a situation that had me on the rail the whole time. Really good stuff.
A great thing about the storytelling which I loved was the occasional "Another View" scenes, which present parts of the story from another character's (i.e. not Caim's) point of view. It gives you the chances to relate to and sympathize with the characters, which really adds to the Aiyoku no Eustia experience.
As for the ending… well, it was one of those endings where you wish so badly that it could have just ended some other way but know that this was really the only way it could have ended. It made me want to cry.
Verdict: 9/10
Art/Graphics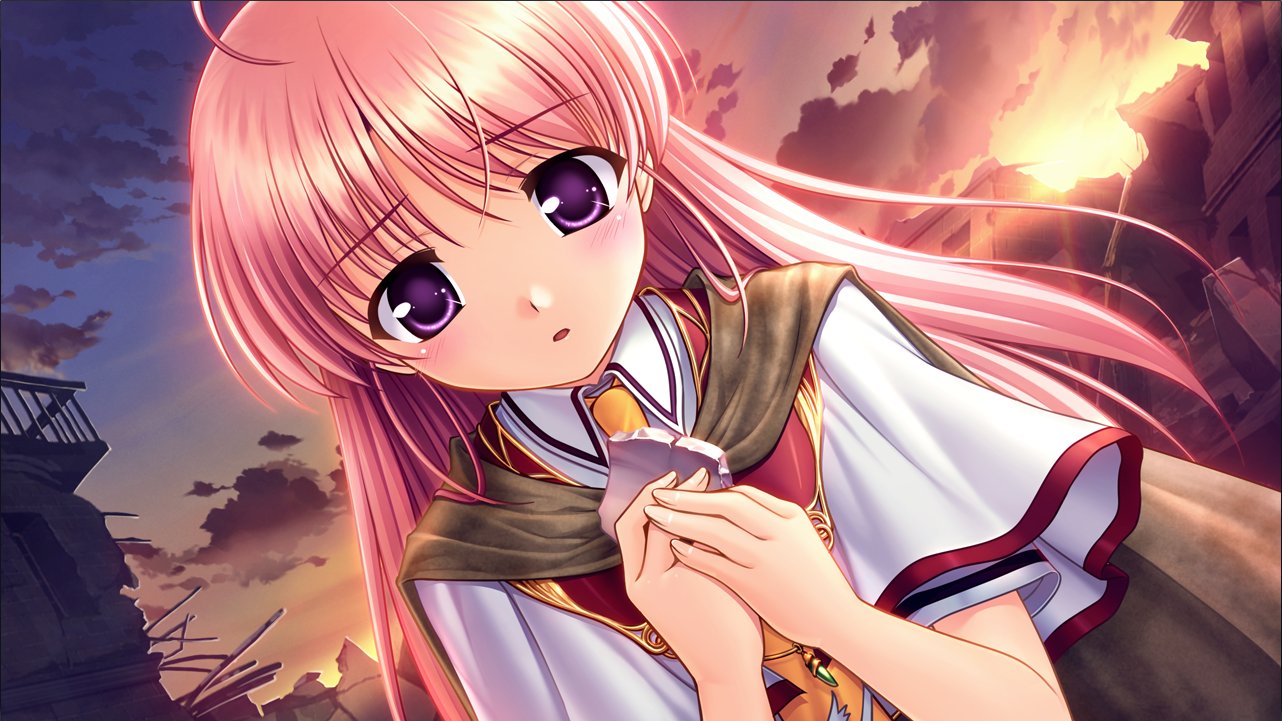 Now, I'm no anime art expert or anything, but I think many will agree with me the art in this game is really good. The standing sprites are absolutely amazing (I seriously think the standing sprites look better than the CGs) and the backgrounds and stuff are gorgeous. The CGs were decent I suppose: I did think some of the CGs made some of the characters look a little childish. There's a little over a hundred independent CGs (a whole lot more if you count related ones as separate), which I suppose is okay for a game of this length. As for the H-scene art, it's definitely a lot better than previous August games, in my humble opinion.
Verdict: 9/10
Music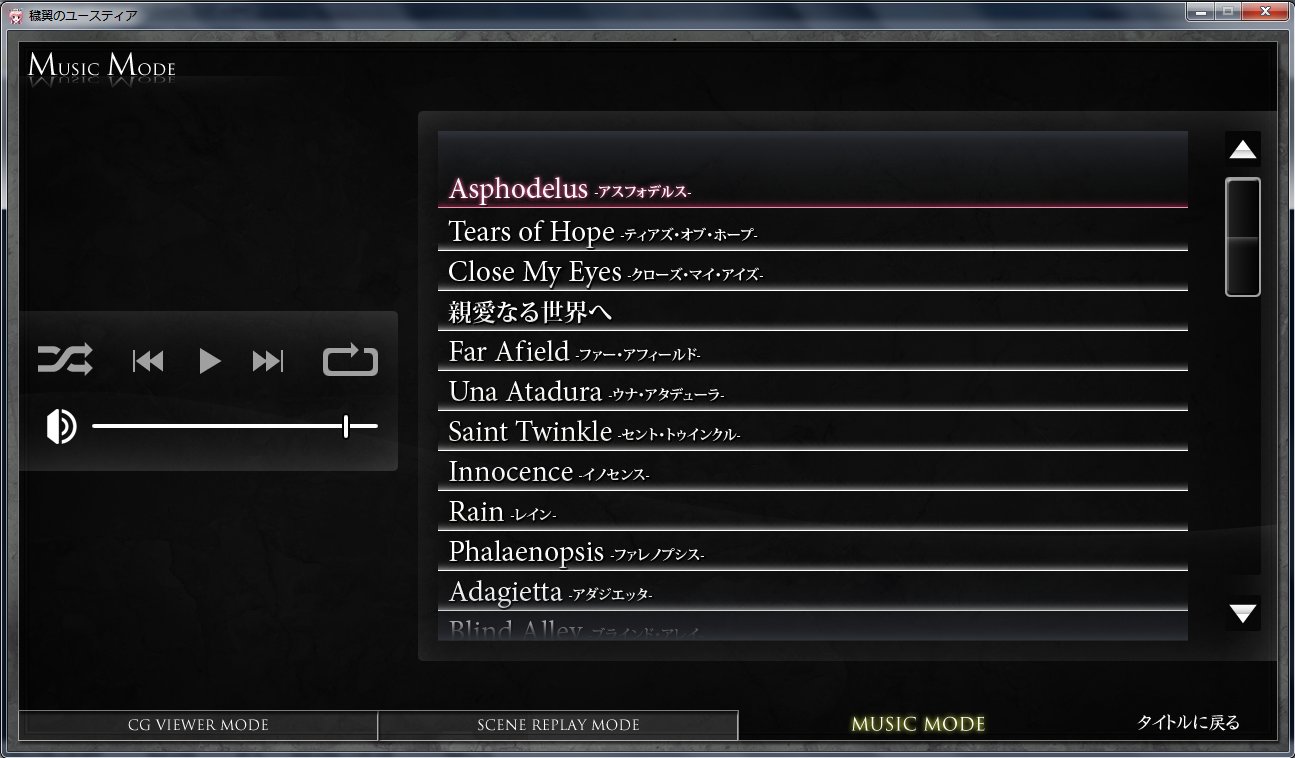 I actually really liked how the soundtrack didn't use a lot of synth or sound overly modernized; it fits in with the game's medieval setting. The music is relatively light and uses acoustic instruments such as the piano, strings, woodwinds, guitar, harp etc. It didn't give me a music nerdgasm like the soundtrack in G Senjou did, but it certainly did its job in eliciting the various emotions when needed.
My favorite theme would definitely be the wistful-sounding Una Atadura track (Eris' theme). The OP was decent as a standalone song and actually had good singing, which for some reason seems like a rarity in VN music. I didn't really pay attention to the EDs, especially not the last one because of… you know, the ending.
Verdict: 8/10
System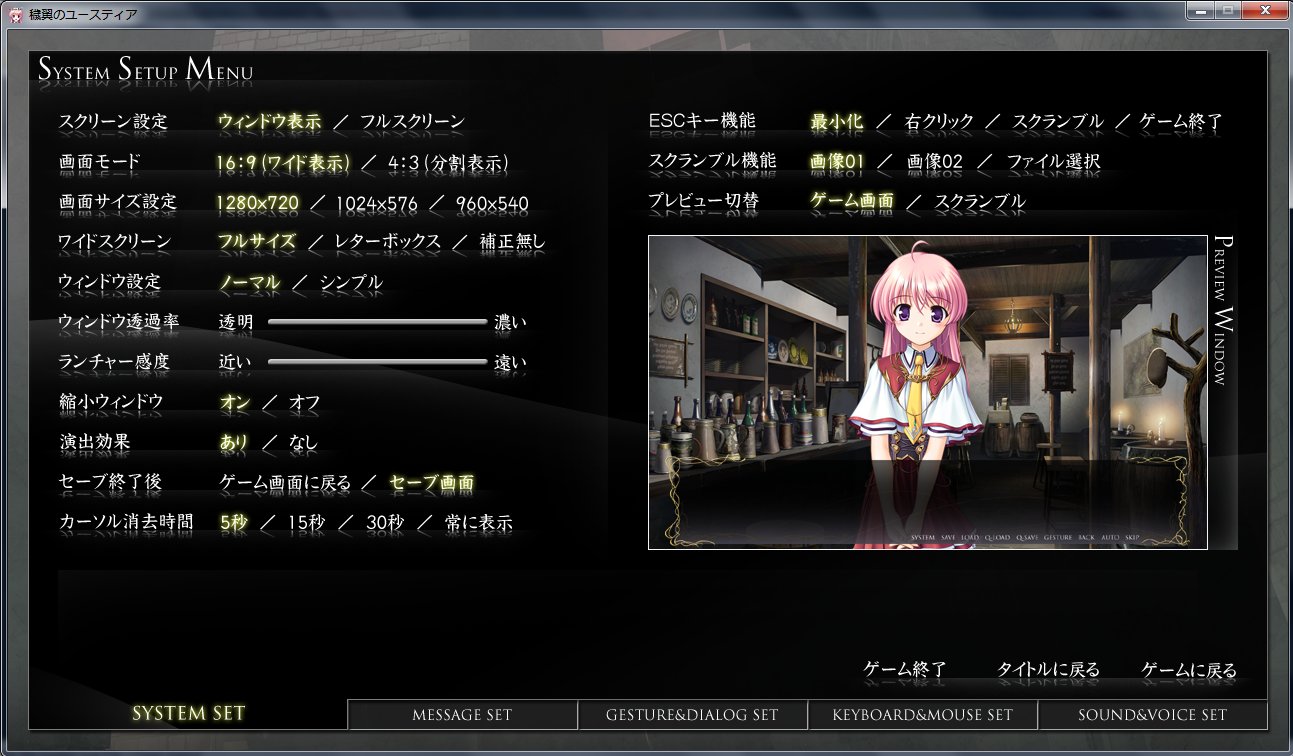 I don't play VNs very often and don't really know what's the norm for VN engines now, but I was pretty impressed with what they had here. There's a ton of configuration settings for almost everything you could hope for grouped into System, Message, Gesture (a nifty little command shortcut feature), Keyboard/Mouse, and Sound/Voice sets; CG and H-scene replay modes grouped by character; and a music mode. In terms of save/load, it has 144 slots as well as a Quicksave/load feature. There's also an extras section with extra scenes that you unlock as you go through the main game.
I particularly liked the "Continue" main menu option, which basically takes you right where you last left off straight away. What would've been nice, though, is a way to jump to certain points in the game (for example, the start of each arc) without having to rely on save/load for those of us who don't make tons of save points.
Verdict: 9/10
H-Scenes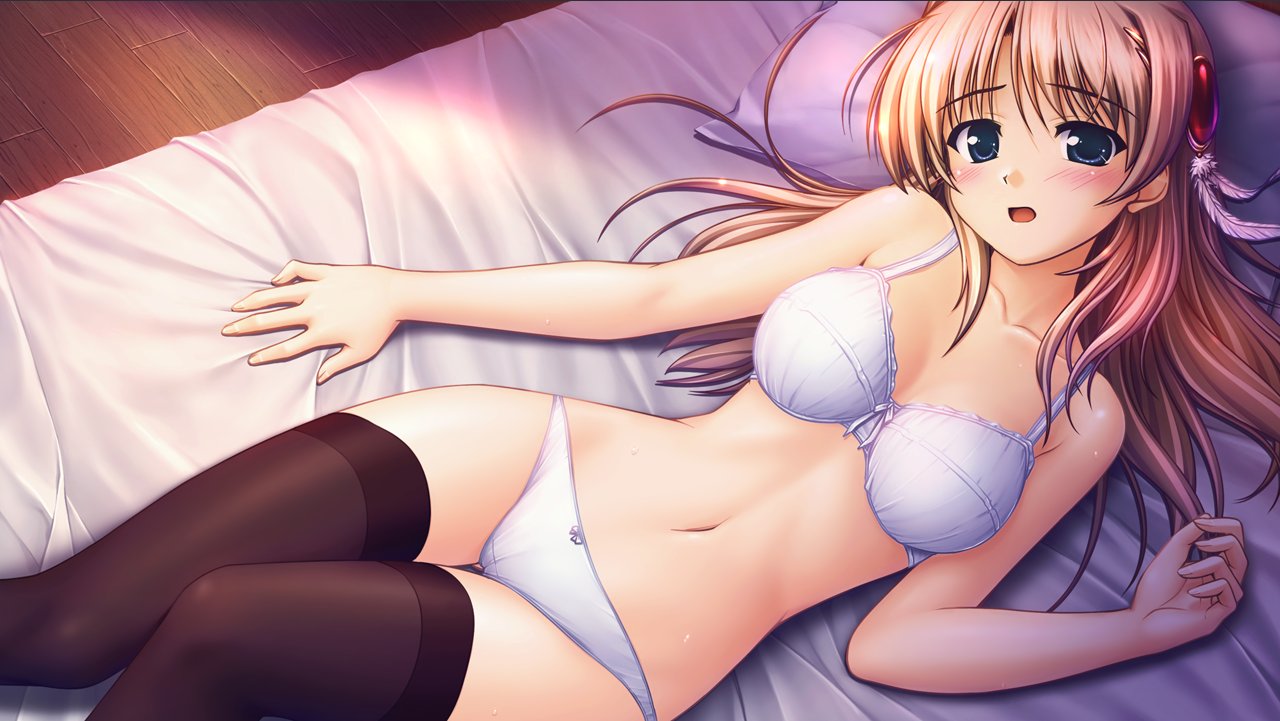 H-scenes in VNs are a strange thing. You want them real bad until you get to them, at which point they become some chore-like thing you need to plow through (or a good place to stop for the night!).
Each heroine has four H-scenes each (including the extra scenes) and I suppose they're reasonably well-written. The earlier ones had a lot of close contact/hugging which I love. This is more of a system thing, but I liked how "cut voice acting with message change" was off by default; it worked really well in the H-scenes, especially during the climaxes. The H-scene art is quite nice, though it also has the problem of the CGs not fitting the text at all at some places which seems to plague every damn VN out there. The H-voice acting was pretty decent with the exception of Licia's (which sounded like she was being voiced by a virgin, no offense meant).
Verdict: 7/10
Overall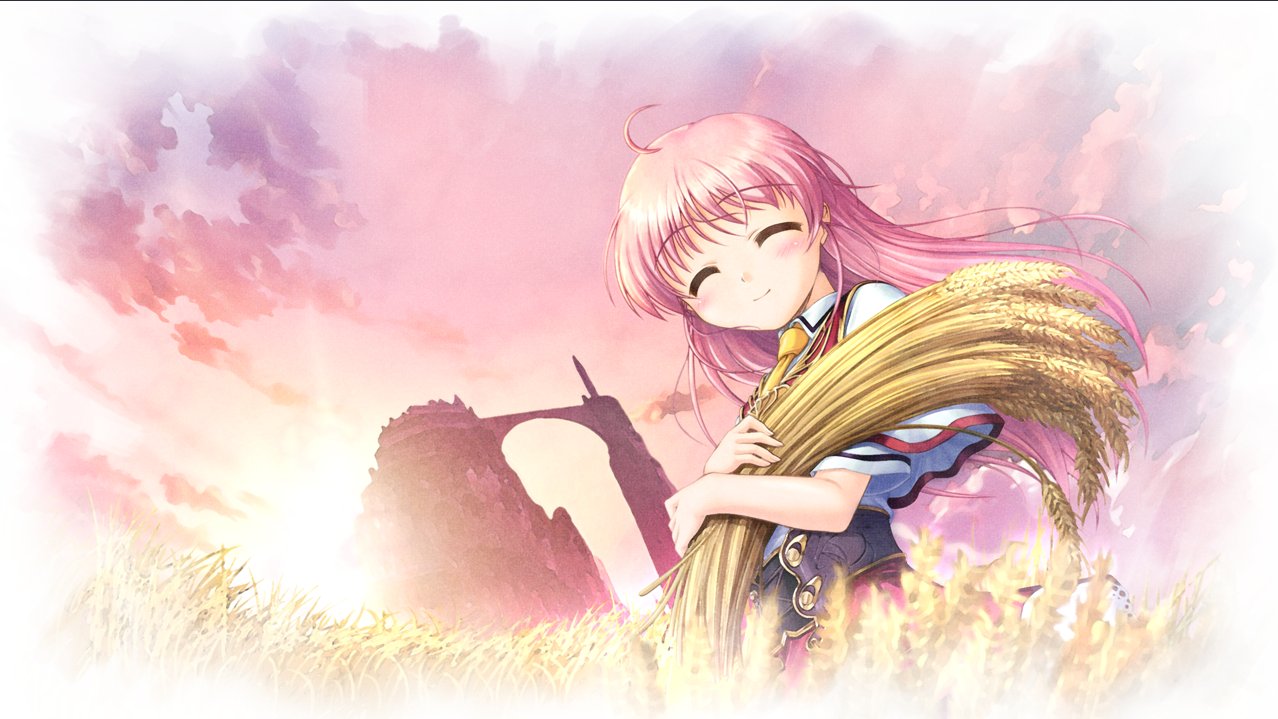 Aiyoku no Eustia is without doubt a top-tier VN. The fact that it's an August title already makes it a must-play for any VN reader; however, the difference in the mood of this title from previous August games is made apparent from the very first minute, and the mystery and intrigue kick in and grip on to you until the very end. The story is like a dark fairy tale that strikes some very resonant and human chords; it also doesn't forget to throw a curveball at you every once in a while. The visuals (particularly the standing sprites) are just beautiful, and everything else is well above average. If you're looking for the next great VN title to play, this is it.
Verdict: 9/10
TL;DR – Aiyoku no Eustia is a top-tier visual novel you should all be playing if you can.
Hopefully you enjoyed my review (or at least read the tl;dr)!