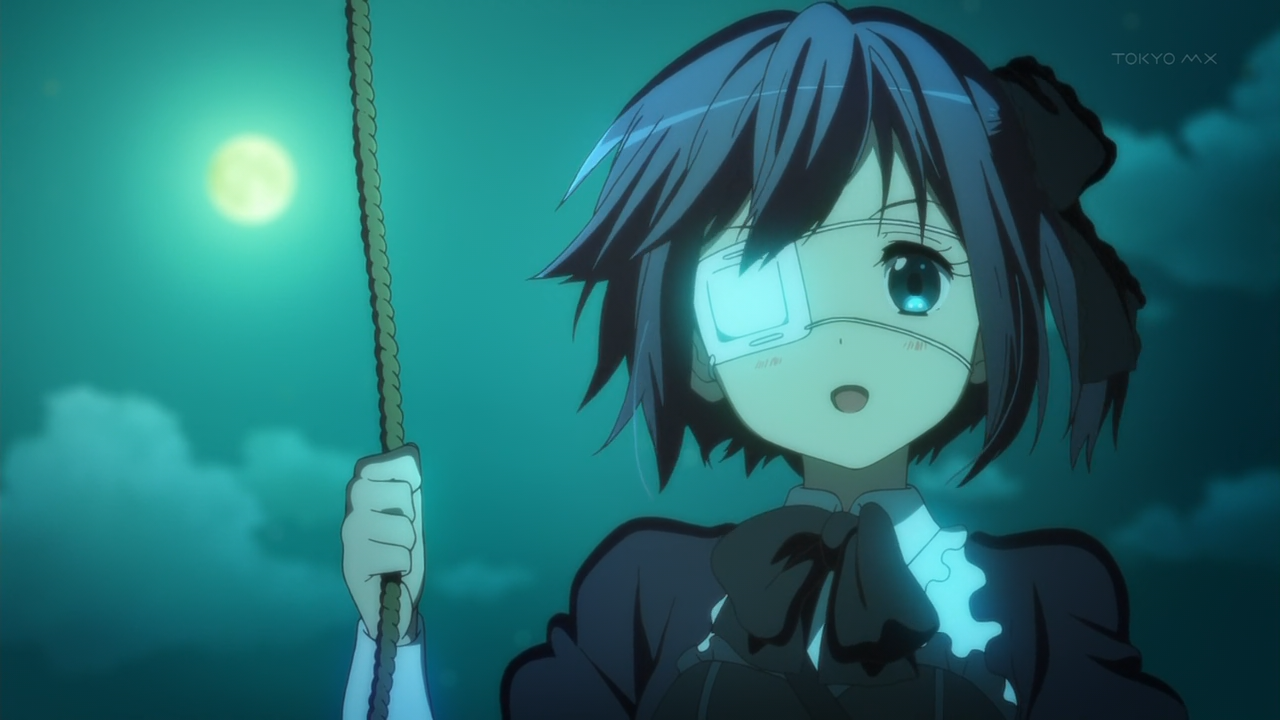 DOWNLOAD HD: [URW]_Chuunibyou_demo_Koi_ga_Shitai!_-_12_[720p][577EE8E7].mkv
"Long have I sat on Lyfjaberg here,
Awaiting thee day by day;
And now I have what I ever hoped,
For here thou art come to my hall."
Joined are we in Bilskirnir by fair maidens.
[spoiler]
Well, what can I say? That was quite the ride.
I had fun turning these posts into a relapse to my own eighth-grade syndrome days with excerpts from the Poetic Edda. It feels like forever since I went through that last. I hope you had fun reading them. For most weeks, the posts on the UTW and rori sites were different, with a theme to match the episode, often a conversation. Might be fun to go back and check what they were. If they inspire an interest in Norse Mythology in you, even better.
But "relapse" might not be the right word. I never really got over my eighth-grade syndrome. My colleagues and co-workers think I'm insane when I suddenly act out a scene, do some improv, make references to Norse mythology, or any of my other strange mannerisms.
No one gets over eighth-grade syndrome. We live it all our lives. We enjoy it all our lives.
A word of advice for the young ones in the audience: You still have time to get infected. Do it, and never let your life be boring.
And now, a few words from our staff:
yoji (TLC): Thanks for sticking with us on the search for the Unseen Horizon. I shall leave you with these words: Reality, be rent! Synapse, break! Vanishment, this world!
Ioryogi (Editing): There was rarely a dull moment in the show. Week after week, Kyoto Animation gave us characters that were fun to watch and, more importantly, very easy to sexualize. Honestly, Comiket 83 can't come soon enough.
Sutai (Typesetting): This show just proves that the best girl never wins. A moment of silence for Nibutani.
Bungles (Typesetting): I have no idea what this show is about.
archdeco (Timing): Here we are, at the last station. I must say I really enjoyed the show, but that's not surprising. After all, it's KyoAni. What could go wrong? Here's to the second season. But before that, there'll be some additional BD only specials. See ya till then. Thanks to the whole team, especially fotc and Ioryogi. P.S. Special thanks to gg. With or without you, we would've subbed this show.
Kusion (QC): what the fuck yuuta
Raze (QC): I had fun following Chuu2, though my involvement in the project has been limited to quick QC passes for the middle few episodes or so due to this show airing during the week. Props go to the team for doing a great job, and thanks go to you for choosing us for this series!
Rem (QC): Dekomori best girl.
Daiz (Encoding): This series is 2chuu4me
Thank you for watching to the Final Vanishment. And yes, it is actually "Vanishment".
[/spoiler]