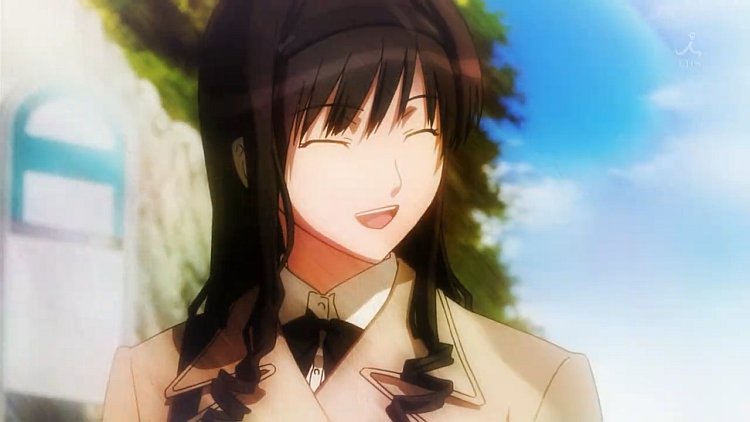 DOWNLOAD HD: [UTW]_Amagami_SS_-_01v2_[h264-720p][B561EBCC].mkv [MU]
DOWNLOAD SD: [UTW]_Amagami-SS_-_01_[XviD][099C093B].avi [MU]
DOWNLOAD SCRIPT: [UTW] Amagami SS – 01.ass
So uh, here it is. First episode of Amagami SS. The first girl to be featured is Haruka Morishima.
This is probably the most, uh, non-standard-English script I've ever produced.  About halfway through I decided "Brother" wouldn't do and reverted back to your favorite Japanese terms.  Anyway, a quick crash course on them:
[spoiler]-san (name suffix): indicates a little respect for who's being referred to.  You can pretty much just ignore it.
-kun (name suffix): suffix used (in this case) for male classmates.
-chan (name suffix): diminutive name suffix, often used on kids/little girls/cute stuff/whatever.
-sempai (name suffix): indicates the other person to be one's senior.
-sensei (name suffix): indicates the other person to be one's teacher.
Onii-chan: a cute way of saying "Brother".
Nii-nii: an even more 'cute' way of saying "Brother".  In before "bro-bro"; honestly, who in the world says that?  >_>[/spoiler]
I also seem to have a knack of picking shows with way too many lines.  This one didn't have as much as BGata, but ~430 lines is no fun.
And lastly, I forgot to add fades for the English translated lines in the ED, which is horribly retarded of me because I somehow remembered to do it for the romaji lines.  It won't happen again.
EDIT:: V2 released. New encode and new dialogue font. We've also fixed a few dumb mistakes such as edits on the second half not making it to the final release, and a couple careless mistranslations from our having rushed it the last time.