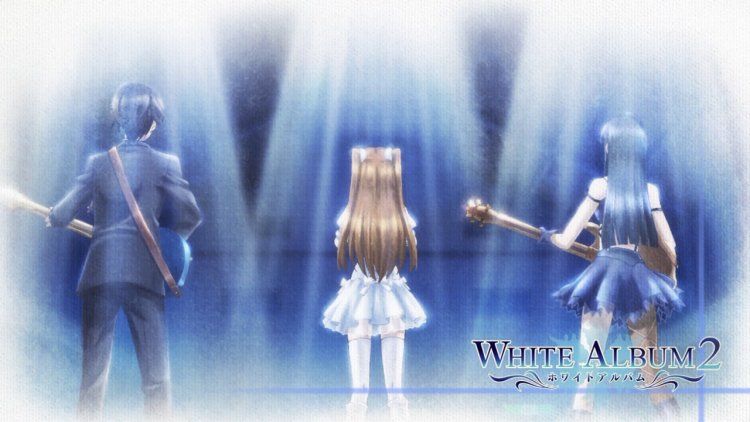 DOWNLOAD HD: [UTW]_White_Album_2_-_13_[h264-720p][465E4E0E].mkv [DDL]
DOWNLOAD SD: [UTW]_White_Album_2_-_13_[h264-480p][645B9F35].mp4
With the release of this episode, the White Album 2 project comes to a close. And what a ride it was! All of us here at UTW will miss watching and working on this series every Sunday.
As is customary with the end of every project we do here, here's the staff curtain call!
Futsuu (Translator/QC): One of my top five eroge and the magnum opus of possibly my favourite writer, this has been the highlight of my week for the past three months and I'm sad to see it go. Hopefully we'll get CC (very) soon.
Raze (TLC/Editor/QC): The "White Album" label has always had a special place in my heart, not simply because the original WA anime was my first ever anime project, but also because it's so rare to find a romance series (and I'm a sucker for romance) where so much happens between the lines. I'm definitely looking forward to a CC adaptation.
archdeco (Timer): This show is Beyond KmE's Reach.
Bungles (Typesetter): Good thing I'm not lazy. But when I am lazy, I don't turn up
ar (Encoder/Odd Jobs): Kazusa will always be #1 in my heart.
Nevreen (QC): Todokanai Nev
Xythar (Backup QC): Goddamn it Satelight do you even know what an OP is
We hope you enjoyed our work and, above all, the show itself. Thank you for following us, and I suppose it's safe to say that we'll be seeing you again for the Closing Chapter adaptation (if it ever happens)!
P.S.: We'll announce our next season plans sometime this week, I suppose.