EDIT (19/3/2012): A couple of you have asked me for more direction regarding the slides. Here are some notes I've jotted down on what I'm imagining this to look like at the moment, though you're of course free to go with your own interpretation.
——————————————-
The Fate/Zero season 1 Bluray box set came with a drama CD about Kiritsugu's and Irisviel's first days together, and I mentioned in a previous post that I wasn't sure if I'd translate them. I'm currently leaning towards yes, but here at UTW we always strive to go the extra mile when possible, and I figured it'd be nice if we could get some of you artists out there involved in this fan effort.
I'm looking for one or more people to draw up a slideshow of images to go with the events that transpire in the drama CD. The images don't have to be full-blown colored and rendered (since I understand how long that would take); they can even just be tastefully-done sketches, as long as they are appropriate and match what's happening. Since these tracks in the drama CD are pretty much just dialogues between Kiritsugu and Irisviel, I estimate that each track won't need more than 3-4 images (some of them can be reused across tracks, too), though the actual number would be entirely up to you, of course.
You can find the translation for the first track below:
[spoiler]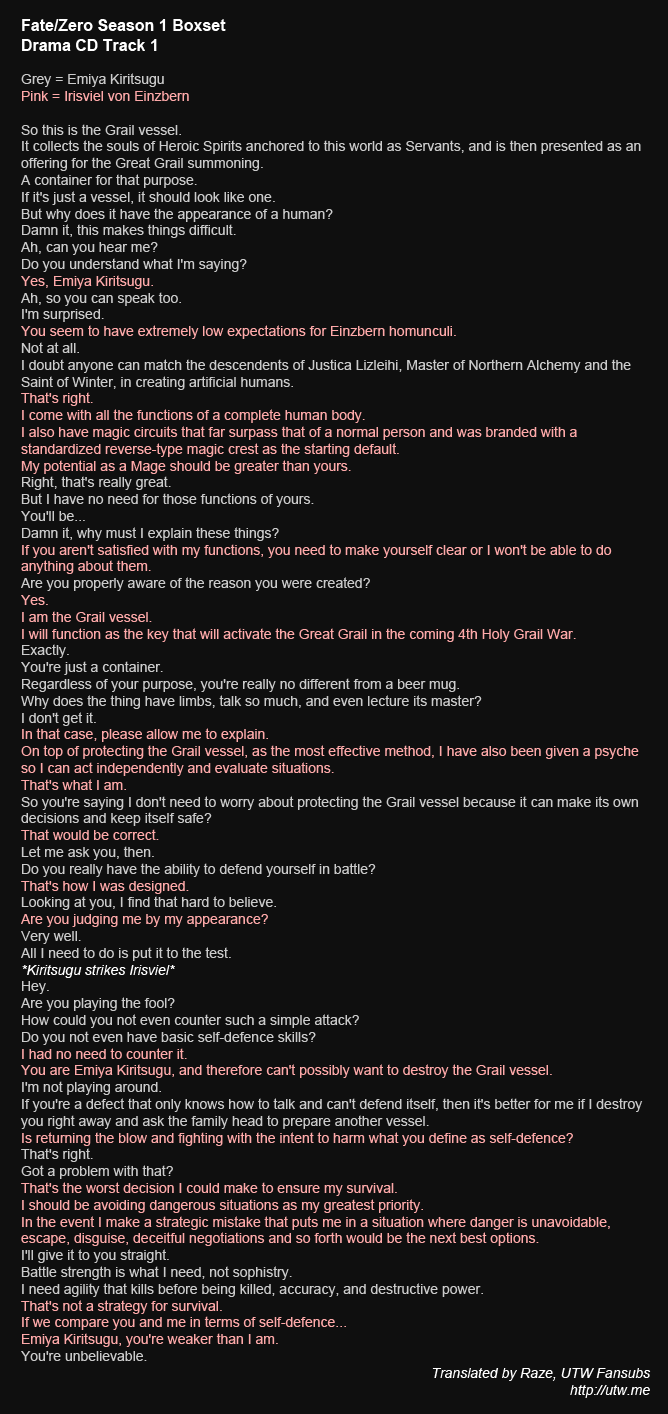 [/spoiler]
The audio you can grab here or from the usual sources.
If you're interested, go ahead and try drawing images to go with the first track. Send me an email by next week so I know you're interested, along with any images you have completed so far. Feel free to also link to them here by writing a comment to this post.
If you can't draw (like me), do help us out by contacting skilled artists you might know, or by spreading the word.
If this works out, we'll have these nice little video slideshows with the original drama CD audio and timed subtitles for you guys. If it doesn't and I decide to go ahead and translate the rest of the drama CD anyway, we'll probably just release the translations through the site and in the batch torrent.
As for the episodes and other specials, we've decided to throw them out as they get done via XDCC and DDL; there will be no torrents until the final batch torrent at the end. We should have the first episode or two and the first Einzbern Consultation Room special ready by the end of this weekend.