Yeah. >_< I think I got most of ya (even if it was only for a moment)?

Though, everything I said in that post is actually true, except for the part about us hibernating. Many of us are indeed becoming increasingly occupied with IRL stuff, and I really don't know how much longer we'll last, but we'll be here for another season or two at least.
That being said, we will be dropping Nichijou. CR subs as of late really aren't anything to complain about, and unlike FUNi'd shows they're simulcasted at 720p as well. Put simply, there's little to no reason for us to re-translate shows that are legally and perfectly well-subbed when we could be doing something else. That being said, nothing's stopping the rest of the staff from doing their own side projects using CR subs (like __ar is currently doing with Gosick); ideas are already being tossed around in the staff room.
"If you're not hibernating, then what will you be doing", you ask? The one show we know we'll be doing for sure is Steins;Gate, and it will be a joint with our buddies at Mazui. Yep, we had so much fun working together on Index II that we're teaming up again for another 2-cour show. Turnaround for this project will be slightly longer, however, due to IRL schedules (I estimate ~10 hours after air). We will also probably be picking up another show or two as a solo group; as for what they might be, you'll find out when (and if) we release them.
Switching gears… I mentioned in the April Fool's post that Spring 2011 would mark our having been around for one year. Turns out we made our first solo release exactly one year ago on April 2nd, 2010 (according to my logs anyway). Which means…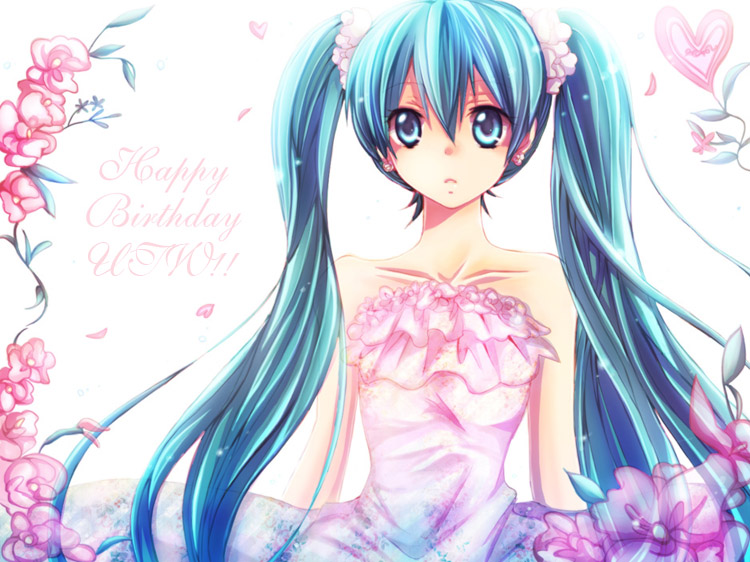 …UTW is officially a year old! Happy 1st birthday!
I'm a pathetic otaku/weaboo and couldn't come up with any 2D character that has the same birthday as UTW, so we're having everyone's favorite Vocaloid Hatsune Miku wish us happy birthday instead. If you guys happen to know of any 2D characters with their birthday on April 2nd, though, please do let us know by leaving a comment.
Sorry if we ruined your day yesterday with the "announcement", and too bad for you if you wanted to see us gone from the face of this earth. But for now, let us wish UTW a happy first birthday and look forward to a fulfilling new season of anime!