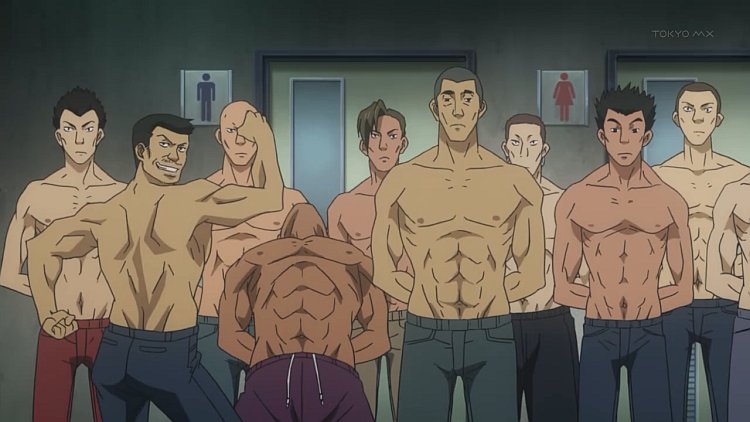 DOWNLOAD HD: [UTW]_Kamisama_no_Memochou_-_05v2_[h264-720p][FE3A0B12].mkv [DDL1] [DDL2]
DOWNLOAD HD Patch: [UTW]_Kamisama_no_Memochou_-_05v2_[h264-720p][Patch].rar
DOWNLOAD SD: [UTW]_Kamisama_no_Memochou_-_05v2_[XviD][12D3421D].avi [DDL1] [DDL2]
We had plenty of fanservice for guys last ep, so this week… we have lots of fanservice for girls! Savor the topless and manly bodies of the Hirasaka Group Yakuza!
Sorry about the delay, guys. Schedules just got totally thrown off and we had people (including me) going to bed and napping etc., adding to the downtime. Enjoy this episode, at any rate (no, it's not actually as gay as I made it sound).
arEdit: Both the x264 & XviD have been v2'd due to 2 minor encoding glitches (from memory errors on 1 encoding machine it seems) in the latter half of the episode. Turns out making a v2 patch for the 720p wasn't so crazy after all, coming out at 4mb total size. XviD on the other hand is too variable so that's a no go. I've included a fabulous sh script for *nix/osx users, just make sure you have xdelta3 installed/compiled and um it may need to be chmod +x'd since I packaged it on Windows.