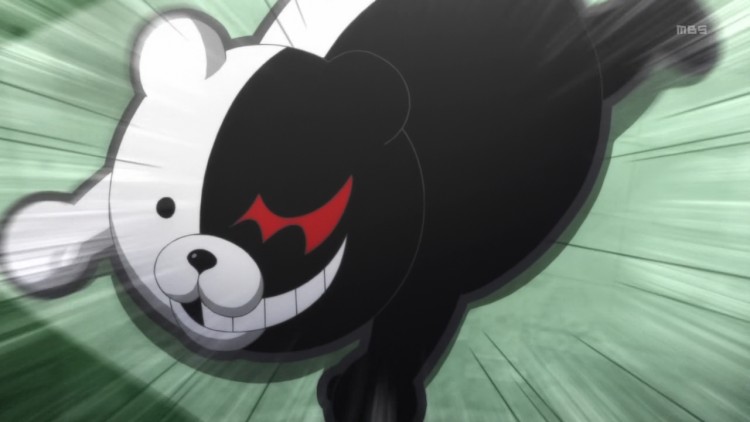 DOWNLOAD HD: [UTW]_Danganronpa_The_Animation_-_13_[h264-720p][6CE1C525].mkv [DDL]
DOWNLOAD SD: [UTW]_Danganronpa_The_Animation_-_13_[h264-480p][D0B2E2F1].mp4
Last episode! It's been hard to say anything concrete about the past few episodes without dropping massive spoilers all over the place, so I'll just say a few things about working on this project.
Subbing this series was pretty work-intensive for almost everyone concerned, but the typesetting was some unbearable despair. We burned through a few typesetters before we found Juular, and typesetting was the reason why practically every episode took so long to do. The irony was that we were trying to avoid typesetting-intensive shows for the Summer 2013 season, but ended up doing Danganronpa… and Watamote I guess. We had fun, though, and I suppose that's all that matters in the end.
Here's what the staff have to say about the project:
Juular (Typesetter): Hi yes hello and sorry for taking 18 hours an episode to typeset things. Thanks for having me though, I learned a lot! Shoutout to runanimated for getting me going on my first season. See y'all next season.
Futsuu (Translator): Everything good about Danganronpa can be summed it in three lines. Dat ED. Dat Kirigiri. Dem Junko's Junkos. That said, I'm glad to have had the opportunity to work with the team here. I really enjoyed the experience.
Kusion (Editor): Should've been 25 episodes. Junko & Kirigiri best girls.
archdeco (Timer): Genocider Sho gives the best blowjobs. Also, Raze pls.
Daiz (Encoder): For some reason I always end up encoding dumb harem shows…
Raze (TLC/Editor/QC/Whiner): Enoshima Junko-chan best fuck
I'd also like to thank Bungles for typesetting the first two episodes and helping with the fourth, Gaijin-tan for typesetting ep3, Sindalf for timing a few episodes, Eien for encoding the first two episodes, and Stig for his invaluable help and input. Sorry if I forgot anyone else; it's quite late where I'm at right now.
I've put up some new Danganronpa character polls on the right side of this site. I'm excited to see how this turns out, so please vote!
It's been a hell of a ride, and we hope you enjoyed our work. Thanks for flying UTW for Danganronpa!