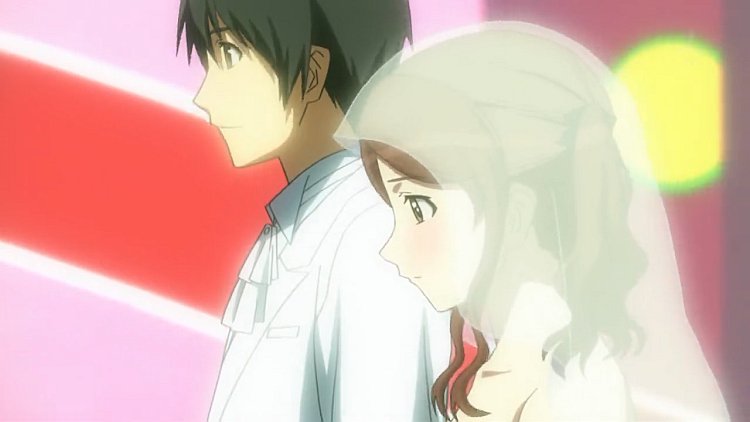 DOWNLOAD HD: [UTW]_Amagami_SS_-_12_[h264-720p][6ED7962D].mkv [DDL]
DOWNLOAD SD: [UTW]_Amagami_SS_-_12_[XviD][46AF753B].avi [DDL]
DOWNLOAD SCRIPT: [UTW]_Amagami_SS_-_12.ass
A… let's see. Four hour delay. I don't even know where to start.
I was away the whole day until pretty much 4pm EST today doing important IRL stuff. Apparently the ts was delayed again, only this time we didn't get a workraw until right when I got back. Ershin had to translate the entire thing off CCs without video and audio help, IGChris couldn't edit because he has class if we're not fast enough, Kusion had to pick up his granddad from the airport, ar did something weird and we had to adapt to a new workraw and shit being off by a few frames, Aegisub trolled me way too many times today, I was tired as balls from a long day (and actually long week too), and anyone who actually knows Japanese (and Japanese 101, years of watching anime, your dictionary, your Bachelor's degree, etc. do NOT count) will know Japanese is practically 50% contextual and therefore translating from CCs (and having to fix the result) is like shooting yourself in the balls.
My shameless bitching aside, this brings us to the end of the Sae arc! And with that, a new poll. Stay tuned next week for some tight Speedo™ action.
EDIT:: Finally got around to doing Sae's monologue, so here you go.  You can also find Kaoru's monologue HERE, and Haruka's monologue HERE.
[spoiler]I've been afraid of strangers ever since I was small,
and I've never been able approach others well.
That's why, right after I transferred here,
after I happened to pick up the coin purse you dropped,
I ran away while you were talking to me.
Sorry for what happened then.
Senpai, you talked to me about all kinds of things,
but I… kinda panicked and…
My heart was beating really fast…
So I wasn't able to respond to you.
But you took the trouble to find me after that so you could thank me.
That was also when I learned that you were the brother of my friend Miya-chan.
Hehe, Miya-chan said that you were kind of a perverted guy, so I was a little surprised.
But I enjoyed the conversation you and Miya-chan had together.
I don't have any brothers and sisters, so I thought, "having a sibling is so nice."
I thought it would be wonderful to have such a kind and interesting brother.
When we talked about how I wanted to get a part-time job,
you said, "I'll help!", and you became my instructor.
Training so I could speak loudly, speed-changing into my P.E. uniform and swimsuit,
and a mock interview while fishes were poking my feet…
All sorts of other things, too…
The training was really tough, and there were times when I thought I wouldn't make it…
But because you, my instructor, would be sure to lead me on,
I was… somehow able to finish them all.
Thanks to the training, I was finally able to work the job I had always wanted to try.
I'm sure I wouldn't be able to work as a waitress if I had never met you, Senpai.
My heart races every day as I work at my part-time job.
Everyone at the restaurant is really kind, and they'd always help me out and teach me how to work.
I want to become independent as soon as I can.
Hehe, Daddy comes to the restaurant often to see how I'm doing at work.
I think he's worried about me.
I used to be afraid of strangers, but I can now talk to all the customers.
I feel like the world I live in is growing wider and wider.
I'm sure this is all because… I met you, Senpai.
My world sparkles brightly as it expands…
And in the middle of it all… is you, Senpai.
Senpai, um…
Sorry I keep making all these requests, but…
From now on, could you… uh, um…
From now on, could you… continue to… lead me on?
I… want to follow you, Senpai… wherever you may go…
Because I li… uh…
I… like you, Senpai.[/spoiler]