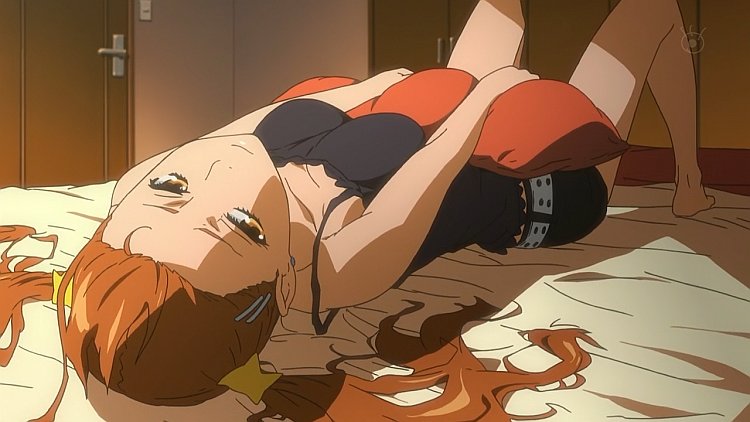 Everyone, meet Anaru. Isn't she hawt? Isn't she cute? Of course she is.
THEN DO NOT CALL HER BY THE FORBIDDEN NAME!
That's right, you know what I'm talking about. Public flogging by dandelions to those who call her by the forbidden name!
DOWNLOAD HD: [UTW]_Ano_Hana_-_01_[h264-720p][58F95653].mkv [DDL1] [DDL2]
DOWNLOAD SD: [UTW]_Ano_Hana_-_01_[XviD][EF1F2C51].avi [DDL1] [DDL2]
Our second series of Spring 2011, and first ridiculously long full sentence series title. Seriously, first semicolons and now this. Well, the show itself is quite fine I must say, so please do enjoy. I'd know, I worked on this particular episode for like 6+ hours or so.
Props to:
Raze: cuz he has to be in every honorary mention list. Oh and he QC'd like usual. 😛 He did tons for Aria though so that's +1 to his workload, actually landing him on this list. The list is the "Good work today guys" list btw; it's not just for this show.
Moshiburner: cuz he should be too (inb4 ???). Well I did QC for aria and TL for this show. And by TL I mean I TL'd the script, did half a pass on the txt, ate dinner while comm timed it (see below), took the script, did a QC pass, applied QC, did another QC pass (this time checking timing errors), applied QC, passed the script to Raze and timed the OP and ED karaoke. That's a shitload even to type.
__ar: cuz he was doing 3 things at once. I mean seriously, doing three separate tasks simultaneously requires tons of effort no matter what. Think about it: styling while k-timing while doing IVTC. I could replace styling with counting jelly beans and the IVTC with peeling a banana and it'd still be frickin expert-moodo, you hear me? That's right. Jelly beans. You know what, change k-timing to chatting on IRC too. All right, counting jelly beans while chatting on IRC while peeling a banana. That's what he did. Respect.
commander`A: timing aria AND this, saying "fuck school, fansubbing > learning". No really. He skipped a class just to time this ep for us. Tiger blood, right there.
Honorary mention:
fnord: cuz he was honest and said "I CAN'T DO THIS SHOW SINCE I'LL LOSE SLEEP TIME". He's got balls. nuff said.
OH RIGHT LOLEDIT: fnord TS'd aria. More cookies for Raze and fnord. I'm going to get some sleep before I really start forgetting stuff. Speaking of sleep, __ar also managed to be falling asleep while doing the above. That doesn't count in the triple-tasking <_<