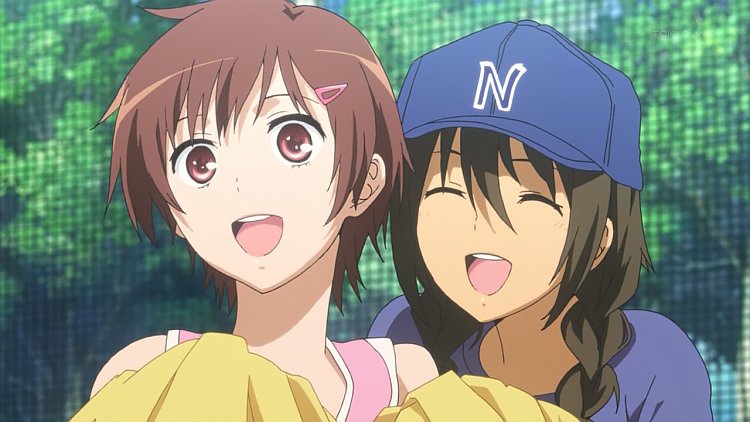 DOWNLOAD HD: [UTW]_Kamisama_no_Memochou_-_09_[h264-720p][4C067108].mkv [DDL1] [DDL2]
DOWNLOAD SD: [UTW]_Kamisama_no_Memochou_-_09_[XviD][E358BEE1].avi [DDL1] [DDL2]
The baseball episode as previewed.
I wrote a long background introduction on Japanese high school baseball, so I'm gonna recycle it here for a really long TL note.
[spoiler]National High School Baseball Championship in Japan, or simply Koushien, is held every spring and summer. Thousands of high school baseball teams throughout Japan compete to become the champions in their own prefectures first (Hokkaido and Tokyo get two seeds), in order to get a spot in the national championship tournament played in the Hanshin Koushien Stadium.
To be able to participate (and win) in Koushien is every boy's dream, and it is undeniably the most prominent school tournament in Japan given the popularity of baseball, especially since many players graduate and sign with professional teams without playing in college.
The summer tournament is especially competitive (spring tournament is invitational, with highest seeds), and national TV broadcasts for the finals often garner viewership ratings rivaling that of professional baseball playoff broadcasts.[/spoiler]
The title of this episode, That Summer's Twenty-One Pitches, is a reference to a non-fiction novel Enatsu's 's Twenty-One Pitches. "Natsu" is the kanji for "Summer".
The novel was about the seventh game in the 1979 Japanese baseball playoffs final's last game. A legendary match where the relief pitcher Enatsu Yutaka held off the opposing team after allowing a no-outs, bases-loaded situation in 21 pitches at the bottom of the ninth inning.
Well, enough TL notes. Makoto's and Erio's team finally play against the hopeless match where they face off a semi-pro pitcher from their school, with the right to host the summer festival at stake. Watch for Maekawa-san's obligatory cosplay, Ryuushi-san being all moe, and Meme-san's boobies bouncing.
Enjoy Denpa Girl and Seishun Boy Ep12 NEET Girl and Gardening Boy Ep09.